Born London, 1934.
Freelance designer and writer since 1958.
Trained Chelsea School of Art, Wimbledon School of Art, Central School of Arts and Crafts.
Formerly painter and maker of constructions; silkscreen and artists printer.
Staff publicity designer, Galeries Lafayette, Paris, 1963-64; art editor, New Society weekly, London, 1966-68; art editor, Pluto Press, 1972-1975; production director, Faber & Faber, 1975-76.
Teacher and lecturer, London School of Printing and Graphic Arts, Chelsea School of Art; Head of Graphic Design Department, West of England College of Art (School of Design), 1964-66; part-time teacher, later Senior Lecturer, Central School of Art and Design (now Central St Martins), 1968-75.
Visits: Kunstgwerbeschule Zurich, 1958; Ulm, Hochschule für Gestaltung, 1960; Cuba, 1962; School of Graphic Arts, Prague, 1963; Basel, Allgemeine Gewerbeschule, 1964.
Designer of publicity, posters and catalogues for Whitechapel Art Gallery, 1968-73 and 1978–85. (See Richard Hollis Designs for the Whitechapel by Christopher Wilson, Hyphen Press, 2017.)
Designer, Modern Poetry in Translation quarterly, 1965–2001.
From 1970s, designer of mainly books and art gallery publicity (more than 160 designs of catalogues) – notably three books with John Berger (G, Ways of Seeing, A Seventh Man) and  books and catalogues for Bridget Riley, Lucian Freud and Howard Hodgkin (Venice Biennale, 1984), and Steve McQueen.
Designed lettering on buildings, the best-known being Hackney Empire, 2003.
In 2010–11 edited and published Memories of Ted Hughes 1952–1963 by Daniel Huws; An Essential Self: Ted Hughes and Sylvia Plath by Lucas Myers and Ted Hughes and Translation by Daniel Weissbort.
Richard Hollis retrospective exhibition, London 2012, travelled to Centre Pompidou, Paris, Lausanne and New York, 2012-13. Lectured at design schools in Milan, Urbino, Bolzano, Lodz, Ghent, The Hague, New York, and Centre Pompidou.
Appointed Royal Designer for Industry, 2005.
Books include Graphic Design: a concise history; Swiss Graphic Design: The origins and growth of an International Style; About Graphic Design, and co-author of Avant-Garde Graphics 1918-1934. 
His most recent book, published in April 2019, is Henry van de Velde: The Artist as Designer, from Art Nouveau to Modernism.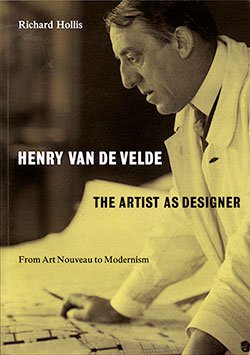 Website designed and produced at Polimekanos
by Joseph Kohlmaier and Shoko Mugikura